'Harry Potter' Gets Love From Robert Pattinson, plus Twilight actors talk reshoots
Sep 24th, 2008 | By
Krystal
| Category:
Featured Articles
,
Movie News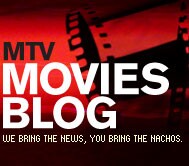 MTV has a celebrity tribute to honor the 10th anniversary of Harry Potter, which includes Robert and Kellan:
Robert Pattinson (Cedric in "Harry Potter and the Goblet of Fire," Edward in "Twilight"): "Does it make me a traitor? 'Harry Potter' was what made me become an actor. I credit 'Harry Potter' with everything else that's come since for me. I didn't know what I was doing before that. I hadn't read the books before doing the movie, so at first I read it just as an acting exercise. But I really enjoyed it! But I think Edward would kick Cedric's ass, to be honest."
Kellan Lutz ("Twilight"): "I love 'Harry Potter.' I actually wanted 'Harry Potter' as competition for 'Twilight,' because you'd be seeing the wizard side of fantasy and then jumping into the vampire life. Everyone I talk to is so obsessed with it. I always wished I had powers. I always wished I had a stick and a broom! It's a great story. It's so well-written. I think 'Harry Potter' hit everything. It set the precedent, that peak of Mount Everest, and we all want to climb that mountain. I just wish there were as many books to make movies of in 'Twilight' as there are in 'Harry Potter.' "
There is also video of Nikki, Taylor, and Kristen talking about reshoots.