Breaking Dawn Tour Kicks Off in Atlanta and We've Got Pics & Vids!
Nov 8th, 2011 | By
Stefanie
| Category:
Fandom
,
Featured Articles
,
Movie News
,
Music
,
Videos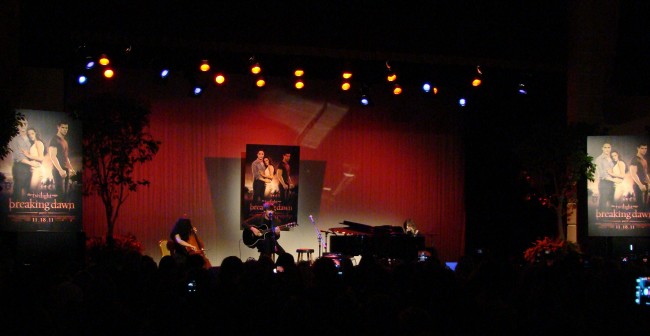 Last night, the Breaking Dawn Part 1 Cast and Concert Tour kicked off in Atlanta at the Buckhead Theatre and I was there reppin' TST! It was such a fun night fill with all kinds of Twi-goodness and a few unexpected moments:
To start off, I have to send a HUGE thank you to Summit for getting us access to this fantastic show!
Servers were walking around with trays full of hors d'oeuvres such as crab cakes, candied apples, and other delicacies. Fance-ay! The decor at the theatre was wedding-themed and so of course, it was gorgeous.
Various booths were set up where fans could pick out a Breaking Dawn poster to take home with them; get glittery Twilight-themed tattoos; and have their picture taken with wedding veils or cute signs that said things like:  "Team Edward","I <3 Bella", etc…
Before the show started, passes to advance screenings were given away, and one lucky fan won a $200 gift certificate from Alfred Angelo Bridal, the makers of Bella's wedding dress replica. Breaking Dawn TV spots and other previews were shown during which time I covered my eyes and ears because I'm staying as spoiler-free as possible!
We were able to meet and greet the cast that were there: Ashley Greene, Nikki Reed, Charlie Bewley, and Jackson Rathbone! The photo hasn't come in yet otherwise it'd be inserted right HERE. 😉
Christina Perri opened the show with "Jar of Hearts", "Arms", and "A Thousand Years". She is incredible live and her voice is smooth like buttah! I can now say I am a fan of hers, especially after finally hearing "A Thousand Years". It's *lit-trally* the sweetest song I've ever heard. And I heard it for the first time last night! haha!
After that, the cast did a Q&A with fans, and here are a few pics and videos from that:
The rest of the photos are in this slideshow: