Twilight Calendar Moved Up!
Jul 17th, 2008 | By
Chelsea
| Category:
Book News
,
Movie News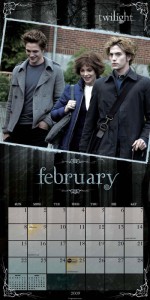 Borders has moved up the release date of the Twilight Calendar to July 25th! Make sure you pre-order it, I think it might sell out pretty quickly based on how well other Twilight merchandise is selling!
Also in the news, and thanks to Twilight Fixation for the head-up:
The Herald Dispatch has a small article on the appeal of Twilight to its readers.
"The novel wraps thriller, action, horror, mystery and romance into one brilliant masterpiece that sends readers out thirsting for more."
Click HERE to read the full article.
The article also includes the Top 10 Books from Empire Books, which happens to include three out of four books from the Twilight saga:
1. "Twilight" by Stephenie Meyer
2. "Breaking Dawn" (pre-sales) by Stephenie Meyer
3. "New Moon" by Stephenie Meyer