Stephenie Meyer Vampire Empire
Jul 24th, 2008 | By
Chelsea
| Category:
Book News
(That's a ton of rhyme there!)

EW.com has posted a 4 page story on Stephenie Meyer. It's a great story and you should really read it to get some scoop on how she writes and who she is!
Check it out here!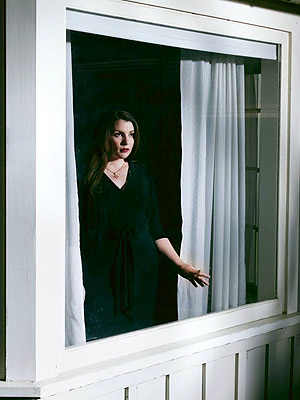 Meyer writes facing the kitchen, with music headphones on to tune out the joyful antics of her sons, who range in age from 6 to 11. She used to have family photos on her website, but she and Pancho have decided to remove the boys from the public eye. Occasionally she'll receive a fan letter at her home, which is unlisted, and those always go straight to the trash. And she's started getting random calls on her cell phone from fans, who stutter and giggle when their unsuspecting hero picks up. "Numbers are easy to change," says Meyer with a shrug. "Moving is harder. They'll have to drag me out of this place on a plank.
***QUESTION** Did anyone else catch this…"The message boards are bursting with dismay, the fans having gotten their first peek at Breaking Dawn's cover. Of course they don't yet know that Meyer herself helped design the image — featuring a chessboard with a white queen piece and a hovering red pawn — or how it relates to the story." I never heard that she helped design this one!  Am I just catching up or is this something new?
*Note:* There are a lot of parts of this interview that we get to see how much pressure Stephenie is under. She talked about the publicity and how much more she has to do. Stephenie doesn't want to disappoint us so keep that in mind as you read Breaking Dawn. It may not end up how YOU would like it, but it's still something truly amazing. She knows its about the writing, not about the politics! She really is my literary hero! -Chelsea