Alice & Emmett Together?!
Jul 28th, 2008 | By
Chelsea
| Category:
Site News
Maybe not…but Kellan Lutz (Emmett) and Ashley Greene (Alice) will be joining together again to star in a film called "Strife" due to start production next week.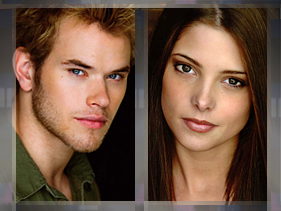 Emmett and Alice Cullen leave Forks for the drug and gang-infested streets of L.A. in 2009 movie.
Check out the article here.
"The burly, charismatic 23-year-old Lutz is set to play Jagger, a smooth-talking but troubled young man who gets caught in his own game when he falls into debt. His desperate actions set much of the film's plot into action.

Meanwhile, the sweet-smiling Greene has been cast as Trish, a well-educated girl who hits the streets of Los Angeles with the best of intentions. Passionate about women's rights and social awareness, Greene will be a stark contrast to Lutz's character."