'Twilight' Author Stephenie Meyer To Direct Vampire-Free Jack's Mannequin Video
Aug 28th, 2008 | By
Kallieross
| Category:
Featured Articles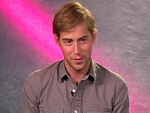 I'm quickly becoming super-aware of how big of a deal it is,' JM's Andrew McMahon says of 'Twilight' series.
"Yeah, there are no vampires in the treatment. There may be a mermaid, but I'm not sure. I don't want to give away too much, because we're letting [Meyer] run with her vision. …
To read more and watch an interview with Andrew, click HERE!
*Huge thanks to Charlene for additional updates!