Taylor Lautner Interview
Oct 12th, 2008 | By
Krystal
| Category:
Featured Articles
,
Movie News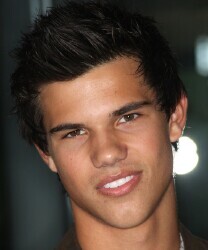 So I opened my local paper this morning and there was a big article on hometown boy Taylor Lautner in The Grand Rapids Press.  You can read the interview here! (There were many pictures in the print article, including pictures of baby Taylor, and I'll try to scan those in for you guys later, if you want them).  🙂
"Five things to know about Taylor Lautner:
He's been a natural at martial arts since he was 7. "Except for the part about being barefoot," he says. "I don't like being barefoot. I don't even wear sandals."
His house burned down when he was 4. His dad, an airline pilot, was away at work. An aunt had invited Taylor and his mom to sleep over that night. "The police called and told us our house had burned down," he says. "If my aunt hadn't invited us to sleep over … well, wow."
He's a football fanatic. "I love sports," he says. "If I could, I'd be on a team." He had to give that up when his acting career took off. "If there's an excuse to play football, I'm there."
He was a member of the LA Hip Kids, a hip-hop dance group.
"I was a biter at day care," he says with a grin. "I don't remember it, but my parents tell me I'd bite other kids." Maybe the "Twilight" people should have cast him as a vampire instead of a werewolf."