'Twilight' Countdown: Edi Gathegi's vampire love
Oct 29th, 2008 | By
Krystal
| Category:
Featured Articles
,
Movie News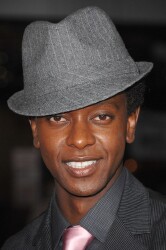 The L.A. Times interviews Edi Gathegi here.
"Many "Twilight" fans are eager to know if the actors have read the books. Be honest — have you read past the first?
I've read them all. "Breaking Dawn"? I finished that in two days. I have to tell you, every time I finished one of them, a little piece of me died. I'd become invested in that world. I really felt sad. After the fourth one, I was like, 'What am I going to do with my life.'
Seriously?
Seriously. I'm hardcore. My favorite is the first one. What Stephenie did so well was create to create a believable human world and then introduce the supernatural in a believable way. When Bella's questioning the otherworldly things going on, it's real and exciting. The tension is what I loved.
Have you gotten a chance to profess your love to Stephenie?
She flew up to Portland the day I wrapped filming. We were like two ships passing in the night. We ended up meeting at Comic Con for the first time, and I freaked out. I flooded her with praise. We got to know each other better at a dinner the studio held for us. We sat next to each other the whole evening. I monopolized her time, really, but I was just so excited. She's a doll."