Twilight on "Extra"
Nov 6th, 2008 | By
Krystal
| Category:
Featured Articles
,
Movie News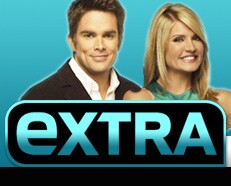 Extra will be interviewing the stars of Twilight this weekend, with segments airing Monday and the cast in-studio next week!  Here is what they had to say:
"You heard right; Robert Pattinson and Kristen Stewart will be getting personal with "Extra" at the "Twilight" junket this weekend, so tune in for an exclusive one-on-one with those stars on Monday.
Then, they'll be kicking back at "Extra's" studio during the week — where they'll be answering YOUR fan questions, just like this one! Do you have a question for Rob or Kristen? upload yours now!
Next, they'll be partying with us in Las Vegas to celebrate the premiere of "Twilight," so don't miss our coverage of this exciting event."