'Twilight' countdown: Robert Pattinson answers even more of your questions
Nov 7th, 2008 | By
Krystal
| Category:
Featured Articles
,
Movie News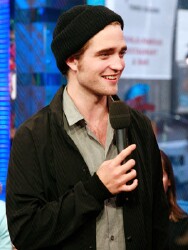 The L.A. Times has the second part of their interview with Robert Pattinson here!
"Do you read the fan mail?
Yeah. I do that quite a lot actually, because I get batches sent from London. I go through tons and tons of it at a time. I get sent some good stuff. I've gotten some really good books. I had this amazing thing made by a fan website, this really amazing bound book with all of these notes inside it. I mean, it must have taken ages to make. I remember thinking, "Why?" (laughs). But, no, it was amazing. Someone sent me a book I'm reading right now, a book of Charles Baudelaire poems. I thought, "Wow, I was going to buy that." That was nice.
Do you have a team that helps you wade through or do you go through it all yourself?
I go through it myself, but I think I might get them censored, because I'm always expecting to get the one thing that says, "I know where you live and I'm going to kill you!" I'm always expecting that to come, but it never seems to arrive. I never get any negative mail, so someone must be censoring them."