Christian Serratos Interview
Jul 19th, 2010 | By
Kallieross
| Category:
Fandom
,
Featured Articles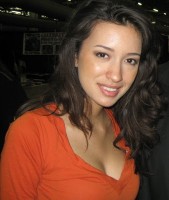 Q: Have you met the Twilight series' author Stephanie Meyer?
CS: Yeah, she comes to the set a lot. She's really hands on. She's really cool. I got a chance to meet her kids and talk to her about the movie and how she came up with it. She's really nice.
Q: Did you ever discussed your character with her?
CS: Yeah. She gave me solid little tips and stuff and told us little tidbits about our characters. I think that a lot of what she told us is now in the public and so everyone really knows the inside stuff.
To read more, go to HuffingtonPost.com!