'Breaking Dawn' Starts Shooting in Baton Rouge Today & Studio Security Is at an All-Time High
Nov 16th, 2010 | By
Stefanie
| Category:
Featured Articles
,
Movie News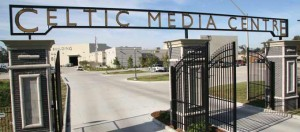 So y'all may have heard about some videos that were floating around the other day where a tv show in Brazil snuck their way on to the set of Breaking Dawn in Paraty.  Well, luckily for production the chances of something like that happening while they're shooting at Raleigh Studios in Baton Rouge just got a lot slimmer.  Scene magazine has an exclusive look at the additional security measures:
In the weeks leading up to Twilight's arrival, Raleigh Studios has been steadily implementing new security measures, including vehicle identification requirements and unique photo badges that authorized personnel must display at all times. But, by far, the most significant change is a 600% increase in the size of the studios own security force.

'We have increased our number of full-time security personnel from six to twenty-four in the last week,' says Achee. 'That's just the beginning of the ramp-up. We'll be adding two to four more every week.' Rather than hire harmless security guards, these new additions are mostly veterans of Louisiana police forces and sheriff's departments…

In closing, when we asked how confident he was that there would be no issues for the productions under his care at Raleigh Studios, Achee's answer was clear. 'I used to run security for Elvis,' he says. 'I'm confident.'
Visit Scene to read the rest of the article.  Not only have they ramped up security, but Scene is also reporting that anyone who trespasses will be charged with felony trespass and if convicted "are subject to imprisonment at hard labor for up to six years and a fine of up to $1000."  So for those who have considered trespassing in a desperate attempt to meet the actors, I recommend bidding on this set visit right here instead.