What Are YOUR Twilight Gift Ideas?
Dec 22nd, 2010 | By
Krystal
| Category:
Fandom
,
Featured Articles
,
Merchandise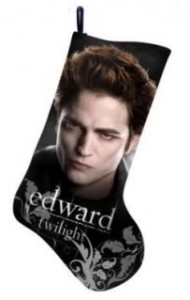 Since Christmas is almost upon us, we thought it would be cool ask everyone what Twilight-related gifts are in their future.  Are you planning on giving anyone anything Twilight this season?  Are you asking for something special, like Bella's bedding?  It doesn't even have to be Twilight-centric, just something in the Young Adult realm.  We just want to know what you hope makes it into your stocking, or what you plan to give someone special 🙂
Krystal:  A few years ago I bought my grandma a copy of Twilight and she quickly fell in love with the whole series!  So this year I thought I'd branch out a bit, so I am giving her City of Bones and Vampire Academy.  I figured if she likes Twilight, those might be a couple of good starters for her.  Think it's a good choice?  I also bought about 5 copies of the Twilight DVD to give to various people, lol!
Stefanie: I saw an Eclipse giftbag at Wal-Mart the other day so that's definitely on my list (as is Destination Forks + Matched, the Poison Study series and a few other YA novels).  I'm getting some friends of mine some Twilight-y things, but I can't say what in the event that they're reading this. 😉