Quileute Wolfpack Fansite Heads to the NAIIA
May 2nd, 2011 | By
Stefanie
| Category:
Fandom
,
Featured Articles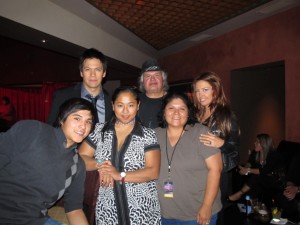 The admins over at QuileuteWolfpack.com had quite the experience over the weekend at the North American Indigineous Image Awards.  Here's an excerpt, and go here to read the rest where they talk about chauffering Chaske Spencer around and meeting Gil Birmingham!
Prior to leaving for Albuquerque, New Mexico, I already had a clear idea of how we would do the coverage for the North American Indigenous Image Awards (NAIIA) event, and I had even made sure that QWP had a Press Pass to get on the red carpet to take photos of Chaske Spencer and Gil Birmingham.

All those plans became moot upon arrival, and we never imagined the fortune we would receive instead. So this article is very different from the report-style that it had initially intended to be, but we hope you enjoy it!

On Thursday morning, 3:00am, I along with two QWP members, Shelly and Kalen, started our long drive to Albuquerque to attend NAIIA on Friday, where Chaske Spencer and Gil Birmingham were nominated for Best Actor. One of the two reasons for our trip was to cover the red carpet for QWP.

The other reason?

There was also an open audition for "Crooked Arrows" on Thursday, and it was being cast by Rene Haynes, the Casting Director for the Native American roles in New Moon and Eclipse. It was a potential opportunity to
meet the very person who cast Chaske, Kiowa, Bronson, Alex, Tyson, Julia, and Booboo, among others. And, of course, it was an opportunity for our Kalen to audition for a role in the movie.

One of the audition staff, Shaunya Manus of Viewfinder Productions Inc., is an acquaintance of mine who happens to also be one of the event coordinators for NAIIA. As we arrived at the audition registration area that day, I saw my friend who asked me to help with registration while she took a lunch break, saying she would introduce me to Rene Haynes (so as not to be alarmed to see a stranger at the registration table). It was a great opportunity, so I took the job on the spot.
Also, while hanging out with Chaske, QWP had the chance to talk with him about the significance of some scars he has on his chest that became the topic of discussion for some after they were seen in a new photoshoot he did. Read that article here.