Day 5: 'Thankful for Twilight' Give-A-Way! Wolf 'Prize' Pack
Nov 10th, 2011 | By
Kallieross
| Category:
Contests
,
Fandom
,
Featured Articles
,
Merchandise
,
Podcasts
,
Site News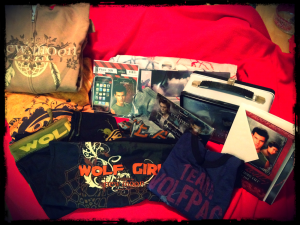 Congratulations to Diana, who is the winner of our wolf pack prize!
It's Friday, and a great day to win an entire prize pack dedicated to the wolf pack!
Today Stefanie is thankful that we have a legit Twihard (Christina Perri) on the Part 1 soundtrack!
Which soundtrack is your favorite? Why?
Kallie~ Twilight… Nostalgia Kassie~ Eclipse….Love Bon Iver! <—he's on New Moon! LOL
Krystal~This is a hard one.  I really love the new Breaking Dawn one (that was streamed live), but I think it would have to be New Moon.
Stefanie~New Moon. New Moon. New Moon. Oh, did I mention New Moon? The mellow (re: melancholy) tempo is more my style. I agree with Kassie about Bon Iver. Anytime "Rosalyn" comes on I have to sit and listen.
The Prize Pack Includes:
Jacob lunch box with thermos
Bella's wolf an heart bracelet
Jacob iPhone skin
Eclipse wolf pack beach towel
Team Wolf Pack Tee (XS)
Team Jacob Tee (XS)
Wolf Girl Tee (L)
Wolf Girl Pj's (S)
Wolf Pack Tattoo Tee (M)
New Moon Hoodie (S)
2 Wolf Pack greeting cards
*To enter you must submit a Comment below, Tweet (Twitter.com – Mention @TSTPodcast) or Share (Facebook.com onTST Profile Page), answering the questions from above.  The contest is open INTERNATIONALLY, and a winner will be selected at random.  The contest will be open during the entire 24 hours of the day (November 11, 2011, Eastern Time).  Once the winner is selected they will be emailed, and given 7 days to respond to the email.