Day 6: 'Thankful For Twilight' Give-A-Way! Bella & Edward Prize Pack
Nov 11th, 2011 | By
Krystal
| Category:
Contests
,
Fandom
,
Featured Articles
,
Podcasts
,
Site News
Congratulations to Rachelle, who is the winner of the Bella & Edward prize pack!
It's officially Saturday, and to celebrate the start of the weekend, we have a giveaway that is all about Bella and Edward!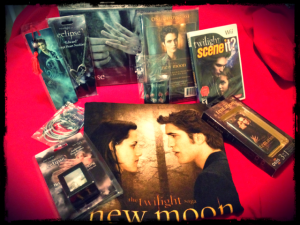 Today Krystal is grateful that Jacob is out of the picture (literally and figuratively, like in posters and promos).
How do you feel about Jacob imprinting on Renesme?
Kallie~ At first I felt, Ewwwww… Now, I'm not so sure?!?!
Kassie~ It will always be weird, but just happy he's laying off Bella…so go for it Jacob!
Krystal~It totally weirded me out, but at least it diverted his attention away from Bella.  But now he's even more of a creeper in my book ;D
Stefanie~It is still so strange, but it made Breaking Dawn all the more interesting. The surprises are what made me love that book so much.
Here is today's prize pack:
Wii Scene It
Bella's Engagement Ring
Eclipse RING Puzzle
Edward Pillow Case
Tentation iPhone Cover
Team Cullen Earring set
Edward script heart necklace
Edward Jelly Bangles
Edward and bella new moon tee (M)
Edward Bookmark
*To enter you must submit a Comment below, Tweet (Twitter.com – Mention @TSTPodcast) or Share (Facebook.com on TST Profile Page), answering the questions from above.  The contest is open INTERNATIONALLY, and a winner will be selected at random.  The contest will be open during the entire 24 hours of the day (November 12, 2011, Eastern Time).  Once the winner is selected they will be emailed, and given 7 days to respond to the email.