3 Days To Breaking Dawn: Which Version Will You Buy?
Feb 8th, 2012 | By
Krystal
| Category:
Featured Articles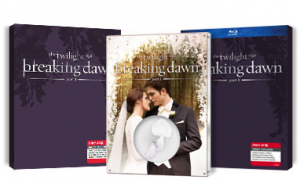 There are only three days left until Breaking Dawn is available on DVD and Blu-ray!  To celebrate the release of the film, we are offering up a new question each day to gauge what you're most excited about.  We wanted to play along too, so here is TST's question of the day:
Which version/edition of the movie do you plan to buy?
Kallie: Hmmmm…whatever Target has for grabs at the release.
Stefanie: The regular two-disc.
Krystal: I think I'm actually going with Walmart's edition this year, which is a departure from my usual Target version.
If you are still undecided, you can check out all of the various versions over on our DVD page, which includes international editions, as well as Walmart, Target, and Best Buy's.