Soundtrack Track List Revealed
Oct 6th, 2008 | By
Krystal
| Category:
Featured Articles
,
Movie News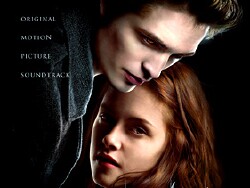 Stephenie's website has been updated with the soundtrack track list!  Looks like you'll all get your Rob fix 🙂
"We are excited that we've been given the exclusive track list announcement for the Twilight soundtrack
(in stores November 4th). We can also confirm that every song listed below will also be featured IN the Twilight movie. The soundtrack has exclusive songs written specifically for the movie from Paramore and Perry Ferrell. The Twilight soundtrack also features a song from Robert Pattinson—this is the first time Rob has recorded or released music. And, of course, no Twilight project would be complete without Muse."
Here is the official track listing:
Muse — Supermassive Black Hole
Paramore — Decode
The Black Ghosts — Full Moon
Linkin Park — Leave Out All The Rest
MuteMath — Spotlight (Twilight Mix)
Perry Farrell — Going All The Way (Into The Twilight)
Collective Soul — Tremble For My Beloved
Paramore — I Caught Myself
Blue Foundation — Eyes On Fire
Rob Pattinson — Never Think
Iron & Wine — Flightless Bird, American Mouth
Carter Burwell — Bella's Lullaby

MTV also had an article on the soundtrack news.