Summit Trailer Update
Oct 8th, 2008 | By
Krystal
| Category:
Featured Articles
,
Movie News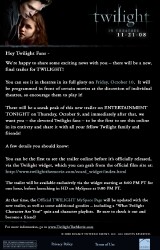 Summit Entertainment just sent out this email regarding tomorrow's new trailer:
Hey Twilight Fans –
We're happy to share some exciting news with you – there will be a new, final trailer for TWILIGHT!
You can see it in theatres in its full glory on Friday, October 10. It will be programmed in front of certain movies at the discretion of individual theatres, so encourage them to play it!
There will be a sneak peak of this new trailer on ENTERTAINMENT TONIGHT next Thursday, October 9, and immediately after that, we want you – the devoted Twilight fans – to be the first to see this online in its entirety and share it with all your fellow Twilight family and friends!
A few details you should know:
You can be the first to see the trailer online before it's officially released, via the Twilight widget, which you can grab from the official film site at: www.TwilightTheMovie.com
The trailer will be available exclusively via the widget starting at 8:00 PM PT for one hour, before launching in HD on MySpace at 9:00 PM PT.
At that time, the Official TWILIGHT MySpace Page will be updated with the new trailer, as well as some additional goodies – including a "What Twilight Character Are You?" quiz and character playlists. Be sure to check it out and become a friend!