More Ashley Greene!
Oct 15th, 2008 | By
Kallieross
| Category:
Featured Articles
,
Movie News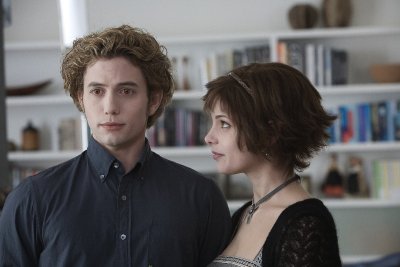 Ok, so I cannot get enough of this girl!  I want her to be my BFF! We have a new still of Ashley with Jackson from Twilight, anda listener, Amy, let me know that she spoke with Interview magazine…
"I grew up in a house that would be perfect to set a horror movie in," says Ashley Greene, originally from Jacksonville, Florida. "It was out in the country, right on the water. I'm glad I never got to see scary movies when I was young. Otherwise I would have imagined things coming out of that lake." In the teenage-romance horror film Twilight, Greene, 21, plays a vampire who spends decades living among humans with her equally youthful-looking vampire husband, only to find herself plagued by troubling visions of the future. The film has already generated an almost Harry Potter-level of tween fan frenzy. After working mostly in television, Greene says the Twilight experience was really eye opening. "Getting to fly around on wires was truly amazing," she laughs. "I just hope the fans are happy, otherwise I'm gonna have thousands of angry young girls coming after me." Now that is terrifying.
There is a picture from the article at Ashley-Greene.com!