'Twilight' Countdown: Robert Pattinson and his vampire pals
Oct 31st, 2008 | By
Krystal
| Category:
Featured Articles
,
Movie News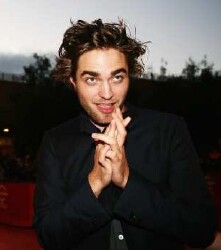 The L.A. Times has a new article on Robert Pattinson as part of their blog. They also want your questions for Rob since they will be interviewing him on election day!
"It's quite cool having this sort of secret element," Pattinson offered.
"You're doing a scene with someone and you can play something however you want and deliver it in a completely random way so even the other actor doesn't know what you're doing.
"And you can just say, 'Well, it's because I'm a vampire, isn't it?' "