Rob Needs A Crossing Guard? Jackson Beat Up By Girls?
Nov 26th, 2008 | By
Krystal
| Category:
Featured Articles
,
Movie News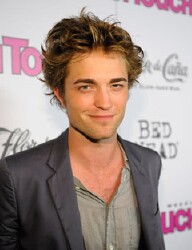 17 has a bunch of cool quotes from the men of Twilight here!
"I'm really afraid of getting hit by cars, like terrified of it. I'm terrified of crossing streets. I'm also very accident-prone…I think people aim for me."
-Robert Pattinson
Teen Hollywood has an article on Hilary Duff's crush on Rob.