Movin' On Up
May 30th, 2009 | By
Krystal
| Category:
Featured Articles
,
Movie News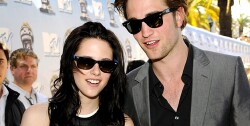 MTV has an article comparing the unknown Twilight stars of last year's MTV Movie Awards to this year's Twilight superstars!  To see how far Rob & Kristen have come, check out the video below, which is from last year's show.
MTV also has a couple of free downloads of some of yesterday's videos, like the nominees for Best Kiss.  Just go to iTunes->Podcasts->MTV News.
"One year ago, Robert Pattinson, Kristen Stewart and a handful of other "Twilight" stars arrived at the MTV Movie Awards and walked down the red carpet, with most of the world's press uninterested in speaking with them. In fact, they had to go back to the beginning of the carpet and start again, just so they could be properly introduced to those who didn't realize they were movie stars. Luckily, MTV had caught the "Twilight" bug early, eagerly did some exclusive interviews with the actors on the carpet and were proud to use the occasion as their coming-out party.
This Sunday night, Rob, Kristen, Kellan, Ashley, Cam, Taylor and others will return to Universal's Gibson Amphitheatre triumphantly, leading the evening's attendees with seven nominations. And when director Catherine Hardwicke recently showed us around her Venice home where it all began, she marveled at the difference 12 months can make.
"Pretty much, everyone was more or less an unknown when we cast them," she explained. "Now they've all blown up big, like, crazy."