"Spider Monkey" Alternatives
Jun 5th, 2009 | By
Krystal
| Category:
Featured Articles
,
Movie News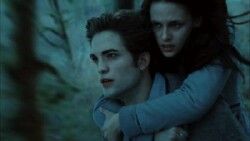 MTV talked to Catherine Hardwicke about the infamous "spider money" line and the director revealed the alternate lines that were almost chosen!  Got any favorites?
Hardwicke's unused lines range from simplistic to silly, over-the-top to right on target. Now, we give you a peek at some of the alternative lines that Pattinson did not select:
Option 1:
Edward: You're not scared of heights, are you?
Bella: Not that I know of …
Option 2:
Edward: Hold on tight …
Bella: Don't worry …
Option 3:
Edward: Wrap your legs around me like a spider monkey.
Bella: Done.
Option 4:
Edward: Got a good grip? Don't let go.
Bella: No chance of that, buddy.
Option 5
Edward: Prepare for liftoff …
There are three more lines that MTV will reveal on Monday!