MTV Wants Your Questions For The Cast!
Nov 2nd, 2009 | By
Krystal
| Category:
Featured Articles
,
Movie News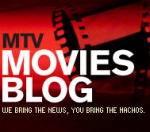 MTV's Larry Carroll will be interviewing the cast of New Moon this week and he needs YOUR questions!  If you have a great question for a cast member, send it to tips@mtvmoviesblog.com by Wednesday night.
For starters, Larry will be speaking to stars Robert Pattinson, Kristen Stewart and Taylor Lautner individually, as well as director Chris Weitz. He'll also be doing a series of group interviews, which you can probably guess at the breakdown of: the Cullens, the Wolf Pack and the Volturi. So that's seven interviews in total: the four individuals plus the three groups. Our time is limited, so please keep your submissions to one question apiece per interview. Just send them over to tips@mtvmoviesblog.com by Wednesday night. And get psyched from the November 20 release of "New Moon"!