Target Offers 3-Disc DVD
Jan 26th, 2010 | By
Krystal
| Category:
Featured Articles
,
Merchandise
,
Movie News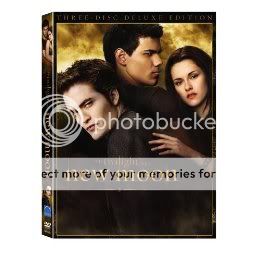 They've done it again!  Target will offer an exclusive 3-disc edition DVD (or Blu-ray) of New Moon, now available for pre-order!
Don't forget that other special editions will probably pop up in the coming weeks, so make sure you check them all out before you pre-order.  You can check out all of the various special editions HERE on our DVD page.
Available Only at Target – The Twilight Saga New Moon 3 Disc Deluxe Edition DVD with Bonus Collectible Film Cell. Included in this edition are the 2 Disc Special edition plus a third disc of never before seen content and a bonus collectible film cell- check back for further details. 2 Disc Special Edition contains over 70 minutes of special features including: revealing feature length commentary with Director Chris Weitz and Editor Peter Lambert; a riveting 6-PART DOCUMENTARY that takes you behind the scenes (Part 1: Life After Twilight; Part 2: Chris Weitz takes the helm; Part 3: The Subtle Details; Part 4: Time to Shine; Part 5: Tricks of the Trade; Part 6: Ready for the World); Band Rehersal Footage with Muse; and Music videos from Death Cab for Cutie, Anya Marina, and Mute Math!
Update: Barnes & Noble will be offering the regular 2-disc edition with bonus bag clip.