HitFix Interviews with Kristen Stewart and Taylor Lautner
Jun 12th, 2010 | By
Kallieross
| Category:
Featured Articles
,
Movie News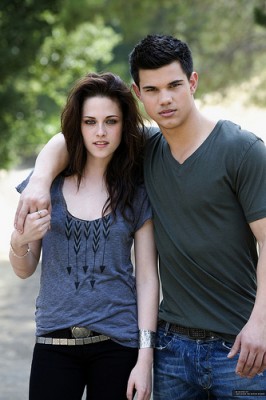 HitFix.com was at a press conference this morning with Kristen and Taylor, and posted the transcripts…
Kristen Stewart…
11:13 a.m. Kristen admits she feels sad about losing things from the book, but she's relieved that "Breaking Dawn" is going to be two movies, meaning fewer cuts. She gushes,  "I can't wait to see Renesme. I can't wait to have a kid and get married."
11:14 a.m. "All of the things that annoy me about her are things that I love about her," Kristen says, regarding her favorite and least favorite Bella traits. "My favorite thing about her is that she screws up and doesn't care," Kristen says.
11:15 a.m. "I knew everything from the word 'go.' I'm really mature that way," Kristen cracks when asked if she ever had a birds-and-the-bees conversation with her own father. It's always good when she makes jokes.
Taylor Lautner…
10:40 a.m. "Jacob matures quite a bit," Taylor says, though he emphasizes that the changes are all from the book, because that's what the fans want to see.
10:40 a.m. Taylor gets to work with Robert Pattison more in this movie. "Usually I have to hate him in the scenes and it's difficult. He's such a funny nice guy," Taylor says. Awww… "As soon as they call cut, we just bust out laughing," he says.
10:41 a.m. The tent scene is his favorite scene he got to do with Rob.
10:41 a.m. Even Taylor is amused by his frequent shirtlessness. "Those are the awkward scenes, where everybody is fully closed and it's raining and I'm waiting there, the only person just posing there."