The Ultimate 'Twilight' Trivia Quiz
Jun 21st, 2010 | By
Kallieross
| Category:
Fandom
,
Featured Articles
,
Movie News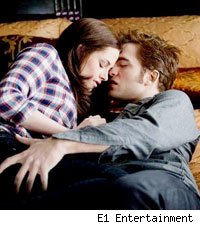 'Twilight' fansite owners and Moviefone's own 'Twilight' expert came together to create the best 'Twilight' test of knowledge to tide over the Twi-hards until the big day.
Here is a taste of a few of the questions…
2. Where is Isle Esme located?
A: Off the coast of Rio de Janeiro
B: Nearby Madagascar
C: In the Gulf of Mexico
3. What is Bella's first meal as a vampire?
A: Deer
B: Mountain Lion
C: Bear Cub
4. Who was the first great Quileute Chief spirit warrior?
A: Godric
B: Vuzuella
C: Kaheleha
To test your MAD SKILLZ, CLICK HERE!