"Breaking Dawn" Will Shoot in Rio de Janeiro
Oct 30th, 2010 | By
Stefanie
| Category:
Featured Articles
,
Movie News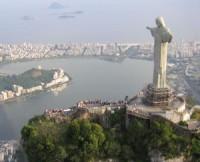 Sérgio Sá Leitão, president of the Rio Film Commission, has confirmed that Breaking Dawn will move production to Rio de Janeiro.  He says that the production is scheduled to shoot in Rio next month.  Negotiations have been up in the air for quite some time regarding whether or not the production team would actually shoot on location in Brazil:
"Dawn will be shot in Rio in November. With full support of the Rio Film Commission.  For security reasons I can not say when and where.  The Mayor and Governor Eduardo Paes Cabral directly engaged to enable the filming of Dawn in the River Plate Gol!  An estimated investment of U.S. $2 million into the economy of Rio seems all right to come and Dawn team is filmed here."
Visit RobPattzNews to read the rest!
I'm glad they will be filming in Rio, this will definitely add to the authenticity of the scenes being shot there–no doubt they're shooting Isle Esme there!  It's interesting to look at the difference in productions: where the New Moon Italy shoot happened at the end of production, the Rio shoot for Breaking Dawn will be happening at the beginning of production.  I'm curious as to whether or not the first day of shooting on BD will happen in Baton Rouge and then move to Rio, or if shooting will start in Rio and then move to Baton Rouge. 
According to this week's Scene Weekly, a local Baton Rouge publication whose offices are on the same studio lot as BD, BD is scheduled to start shooting November 16.  An earlier report posted on Production Weekly's twitter stated that shooting was scheduled to begin November 1. Of course, all these dates I've mentioned are subject to change seeing as Summit hasn't yet issued their usual press release announcing the start of principal photography.  Till then I'm loving speculating on the whens and wheres!
If you'd like subscription to Scene Weekly, go here.  It's free! You can also follow them on twitter where they post the occasional tidbit of info.
So what do you guys think?  Are you happy that Breaking Dawn will be shooting in Rio?
Photo Credit: Wikipedia