Jamie Campbell-Bower Confirms He's Back for "Breaking Dawn" + an Updated "BD" Synopsis
Nov 4th, 2010 | By
Stefanie
| Category:
Fandom
,
Featured Articles
,
Movie News
Slowly, oh so slowly, we've had Breaking Dawn news trickling in and here's the latest: Jamie Campbell-Bower tweeted last night that he's indeed coming back for Breaking Dawn. Hip, hip, hooray!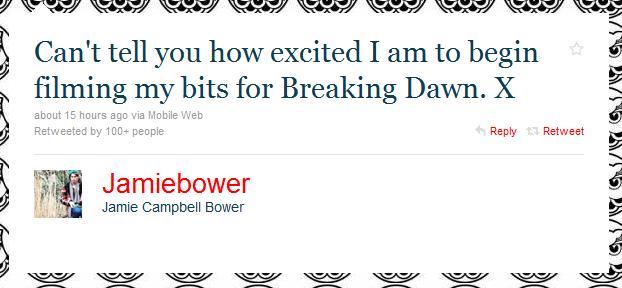 And over at Collider.com, they have a new synopsis for parts 1 and 2 of Breaking Dawn:
In the highly anticipated next chapter of the blockbuster The Twilight Saga, the newfound married bliss of Bella Swan (Kristen Stewart) and vampire Edward Cullen (Robert Pattinson) is cut short when a series of betrayals and misfortunes threatens to destroy their world.

After their wedding, Bella and Edward travel to Rio de Janeiro for their honeymoon, where they finally give in to their passions…
Dun, dun, dun, DUNNNNN! Wait, what happens next?! (as if you haven't already read the book 😉 )You'll just have to visit Collider's site to read the rest!
Oh! Before you go, do you remember the rumor I mentioned in a previous article, concerning whether or not Taylor Lautner would actually be headed to Brazil with the Rob and Kristen to film?  Well, the ladies over at the Twilight Lexicon have an interesting perspective on this–it involves a sequence in the book that I'd completely forgotten about!–, as well as remarking on the possibility of Ashley Greene also heading to Brazil to work on Breaking Dawn.