The Black Keys Vs. Vampire Weekend in Colbert Report's "Sell-Out-Off"
Jan 12th, 2011 | By
Stefanie
| Category:
Featured Articles
,
Music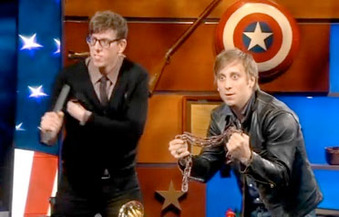 HitFix posted a video from the "Colbert Report" that features Eclipse soundtrack artists The Black Keys and Vampire Weekend in a "sell-out-off":
This holiday shopping season, in particular, you may have noticed the abundance of commercials sporting an indie-rock soundtrack. Two of the most spirited contributors — the Black Keys and Vampire Weekend — earned their public due for the feat on "Colbert Report" last night, as Stephen Colbert had Ezra Koenig, Dan Auerbach and Patrick Carney had a little chat at the Comedy Central studio.

The Grammy Award-winning host was parsing through his own 2011 Grammy ballot, musing the past winners behind "screwing on your lunch break" ("Afternoon Delight") and "touching Justin Bieber" (a current best new artist nominee).

And then the battle for best alternative album was staged. Literally. Colbert forced Koenig from Vampire Weekend and Carney and Auerbach from the Black Keys into a "sell-out-off" — combatants who had "equally whored out your music."
Check out the video below!  The Black Keys are nominated for four Grammys & Vampire Weekend is nominated for one Grammy, and lest we forget, the Eclipse soundtrack is nominated for a Grammy as well!
The Colbert Report
Mon – Thurs 11:30pm / 10:30c
MeTunes – Grammy Vote – Dan Auerbach, Patrick Carney & Ezra Koenig<a>