Kellan Lutz Teams Up with Castmates Casey LaBow & Rami Malek to Help Out the St. Bernard Project
Feb 1st, 2011 | By
Stefanie
| Category:
Featured Articles
Kellan Lutz has been a supporter of the St. Bernard Project for awhile, and recently he had some help from his new castmates Casey LaBow, who plays Kate of the Denali coven, and Rami Malek, who plays Benjamin of the Egyptian coven.  He tweeted this picture: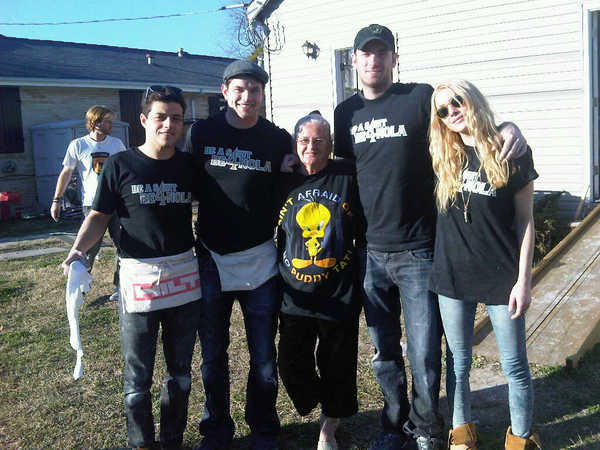 The St. Bernard Project's website states that their mission "is to create housing opportunities so that Hurricane Katrina survivors can return to their homes and communities."  To learn more about the St. Bernard Project visit their website.  The organization also posted some pictures of the cast at work.  There's a couple more photos of Kellan in their Flickr account.
                                             Casey LaBow                                                                        Kellan Lutz and Rami Malek
Check out this video of Rami and Kellan urging you to "Get on the Float".  For more information on the St. Bernard Project's latest fundraiser "Get on the Float", which coincides with Mardi Gras, go here. 
I think it's pretty awesome that some of the cast have used some of their days off to help out families that are still dealing with the ramifications of Hurricane Katrina.
St. Bernard Photos: Bridget Nolan/St. Bernard Project via Gossip-Dance
Video: via Gossip-Dance