Noel Fisher on What to Expect from "Breaking Dawn"
Feb 24th, 2011 | By
Stefanie
| Category:
Featured Articles
,
Movie News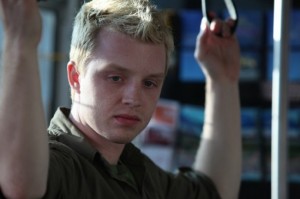 Noel Fisher, who's been promoting his upcoming film Battle: Los Angeles, was interviewed by Daemon's Movies where he talked about what he likes about Breaking Dawn and that we should expect "big things" from the film:
I understand the visual and special FX are actually being taken up a notch for 'Breaking Dawn' compared to the other 'Twilight' movies. Is that fair to say?

Noel Fisher: Absolutely. This is the end. This is the end of this world, at least for now, and they really are going out with a bang. There are some big things in the works, some very big things.

Bill Condon and the producers have released little photos to keep fans excited. What do you think they should release a photo of next?

Noel Fisher: I don't know. I think one of the really cool things about the book and the movie is the different, all these different covens, all these new covens that you get to meet. It really expands Stephenie's [Meyer] world in a way that hasn't happened up until now. It's been kind of isolated to just Forks, the 'Twilight' town and this really blows the whole world wide open. I think getting to see some of the other covens might be cool.
Go
here
to read the rest where Noel talks about heading to Vancouver to finish his scenes, his work on television,
Battle: Los Angeles
and more.  What photo do y'all hope gets released next? 
Photo via Daemon's Movies