Lee Pace Sings Praises of Rob, Kristen & Bill Condon
Mar 8th, 2011 | By
Stefanie
| Category:
Featured Articles
,
Movie News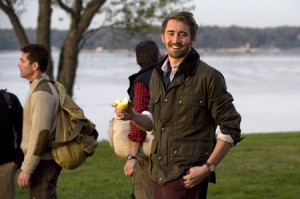 Lee Pace, who as y'all know is playing Garrett in Breaking Dawn, has a couple of interviews out now as part of the press for his latest film entitled "Ceremony", starring Rob's Bel Ami costar Uma Thurman.  First, here's Lee's interview with E!'s Marc Malkin where Lee praises both Kristen and Rob's authenticity and Bill's approach toward Breaking Dawn:
'Kristen hasn't lost any of that stuff that makes her special,' Lee Pace, who is playing Edward's vampire BFF Garrett in the Breaking Dawn flicks, tells me. 'People say it's quirky, but I think it is authentic.

'She doesn't march down these red carpets like a show monster,' the former Pushing Daisies star continued. 'You see these girls and they're all just like, 'I'm living the fantasy. I'm wearing $10,000 worth of clothes and jewelry.' Kristen's just not like that. Kristen is just her.'

The same for Mr. Pattinson. 'The thing about him that is so charming is what you see is what you get,' Pace said. 'He is as charming and humble and handsome as he presents himself. Totally what you see is what you get with him.'

Pace also said that director Bill Condon's take on the movies is a bit more 'dark' than the previous three movies. 'Bill Condon is cooling up these movies,' he said. 'I hope that doesn't get me in trouble with anyone, but he's cool…He really is killing it with this one. He's making it cool. Bill is finding that stuff and letting it be as shocking as it can be, but stylish, too.'

Pace returns to filming Breaking Dawn this week after taking a three-week vacation to India. 'I wear bright red contacts,' he said. 'I feel so plain and boring when I take them out.'
Check out the rest over at E! And below check out a portion of his interview with MovieWeb:
I was wondering if you can talk about your role as Garrett in The Twilight Saga: Breaking Dawn – Part 2. Can you give us any details about the character? Is he one of the Volturi?

Lee Pace: No, I'm a good guy. I join Team Cullen. I'm only in the final movie. I play Garrett, who enters the scene in the last movie. I'm having a blast with it. Bill Condon is awesome. I mean, have you ever seen a movie of his that you didn't like?

Well, no.

Lee Pace: That's how I felt too. These movies are what they are. It's not my kind of movie, but I have to say, working with Bill and having him show me some stuff, it's totally my kind of movie. It's really cool. It's really cool and dark. He gets Kristen (Stewart) in a really great way. She looks incredible in the movie. She looks like a movie star.