Angela Sarafyan "Excited" to Be Working on 'Breaking Dawn'
Mar 9th, 2011 | By
Stefanie
| Category:
Featured Articles
,
Movie News
,
Videos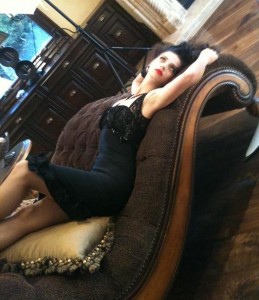 Angela Sarafyan was interviewed by Teen.com during her shoot for Troix Magazine, and she talks about being excited to work in Breaking Dawn, how sweet her co-stars are.  I can't get the embed code to work so check out the video over at Teen.com.  And here's an excerpt of her recent interview with Next Movie:
How different is the experience of shooting a big, Hollywood movie like "Twilight" as opposed to a smaller film like "American Animal?" I imagine they must be two ends of the spectrum.
It's funny you say that because it was quite the opposite from what I expected. It's a very big, big film and you'd think it would be filled with pressure and… it's not at all like that. It's very intimate. Easy to do, somehow. The people I work with are so helpful, kind and welcoming. It's been fun to go to work with those kind of people, especially under very extraordinary circumstances.

It doesn't feel as big as you'd think, which has been good for me as an actor. I get to play around and create things and have fun in the moment. We're only one part of it as actors, because the special effects and visual effects all come in [after]… and [director] Bill Condon conducting the whole thing – only half the film is being shot, the other half is in post-production. It'll be a huge surprise at the end, [laughs] I don't know what it will look like!
Check out the rest here where she talks about when she's heading up to Vancouver to finish shooting Breaking Dawn, and she also talks quite a bit about her upcoming film, American Animal, which will premiere at SXSW.  Speaking of special effects, I hope hope hope that we get a glimpse of Benjamin's earth-shattering powers in Breaking Dawn. Hah hah, get it? "Earth-shattering"…LOL
Via: RPLife
Photo: Troix Magazine