Rob on 'Water for Elephants' & 'Breaking Dawn'
Mar 25th, 2011 | By
Stefanie
| Category:
Featured Articles
,
Movie News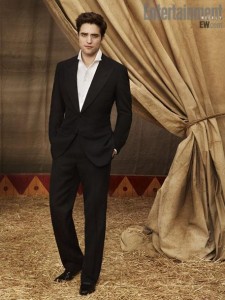 Promo for Water for Elephants is ramping up and we've got two new interviews with Rob!  The first is an all Water for Elephants interview Rob did with Box Office Magazine:
You're incredibly busy. What is it about Water for Elephants that made you decide this was the film you wanted to do next?
When I first met Francis, we met at the elephant sanctuary where Tai the elephant lived. I got along with him really, really well in the car. We arrived at this place, met the elephant and he was showing us all the tricks that it was going to do in the movie—it was such an incredible day and just the environment of being around elephants was the first major thing. I loved the idea of working on such a peaceful set because just being around them is incredibly peaceful. Also, having done so many stressful things over the previous year, when I read the script and the book and loved them both, it just felt like I could add something to it. Then it had Reese and Christoph on it and I felt like you can't really get a better cast, and that was about it. I thought it was kind of a no-brainer, really.
Read more about why Rob liked working in a circus atmosphere, and why the 1930s is his favorite American time period. (Thanks RPLife!) 
In this next interview USA Today asks Rob about the extraordinary storylines in Breaking Dawn:
On a short break from shooting Breaking Dawn in Vancouver, he also offered up some Edward Cullen-style gossip. The main story line is "so far outside of the box," he says."It's really different from the other ones. There are some days on set just watching you go 'How is this going to be PG-13?'" he said with a laugh. "It's like totally ridiculous."

Haven't read Twilight's fourth novel? Read no further.

Pattinson confirms he and Stewart have filmed the birth scene, and with a laugh, says the shooting was "kind of hilarious."

He explains: "She has to have this pregnant suit on all the time, that was probably more annoying for her," he said. That's not the only change you'll see in Bella.

"I can't give too much away but there's some bits, especially towards the end of the movie, she's just like the polar opposite of any of the other (films)," he says. "I mean, she's a different person, which is cool. She looks completely different. She looks probably the most convincing vampire out of all of us."
Check out the rest of that interview here!  I keep forgetting about the fact that Kristen has to play a pregnant Bella! Gah, I can't wait to see what she looks like!
Lastly, do you love that photo above of Rob?  It's one of five new outtakes from his and Reese's shoot with EW!  Check out the rest here! (Thanks again RPLife!)