"Abduction" Trailer To Premiere With MTV Taylor Lautner Interview
Apr 6th, 2011 | By
Krystal
| Category:
Featured Articles
,
Movie News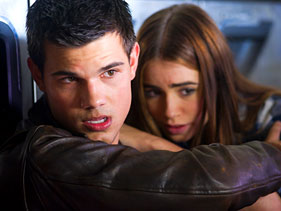 MTV is conducting another 30 minute live interview with a Twilight actor, this time with Taylor Lautner!  The live interview will take questions from fans and will also debut the first trailer for Lautner's upcoming film, Abduction.  Head over to MTV.com or Tweet your questions for Taylor to @MTVNews using the hashtag #AskTaylor.
MTV News to Exclusively Premiere First Trailer from Lionsgate's Abduction during "MTV First: Taylor Lautner"
Wednesday, April 13 on MTV and MTV.com at 7:56pm ET
Taylor Lautner Sits for Exclusive 30 minute Interview with MTV News' Josh Horowitz
and Answers Fans' Questions
New York, NY (April 6, 2011) – On Wednesday, April 13, Taylor Lautner will exclusively sit down with MTV News' Josh Horowitz to premiere the first footage ever seen from his upcoming film ABDUCTION during "MTV First: Taylor Lautner." Beginning at 7:56pm ET on MTV and MTV.com, Taylor will introduce the never-before-seen trailer. Immediately following the on-air premiere, Taylor will stay on for a 30-minute interview with Josh on MTV.com where he will answer questions about his role in the film and much more. Fans can get in on the action and submit questions beginning today through MTV.com or via Twitter (using @MTVNews / hash-tag #AskTaylor).
Dating back to the first Twilight movie, MTV News will lead up to the premiere of "MTV First: Taylor Lautner" with a five day countdown of favorite MTV moments with the star. Fans should check in every day to see and comment on the latest clips.