Rob is "as curious as any 'Twilight' fan" about the look of 'Breaking Dawn'
Apr 15th, 2011 | By
Stefanie
| Category:
Featured Articles
,
Movie News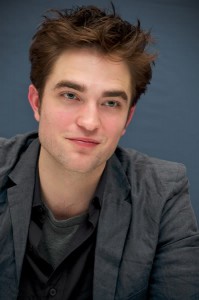 In a new interview with the Chicago Sun-Times Rob talks about the end of filming for the Twilight saga, his journey as Edward Cullen, the "insane intense" birth scene, Water for Elephants and more.
So much for immortality. Vampire Edward Cullen is gone. The fanged teeth have been put into storage. The glittering makeup has hit the Hefty bag. Bring on the sunlight.

By the time you're reading this article, Robert Pattinson will have wrapped his final scene for 'Breaking Dawn: Part 2.'

In a way, he's breaking up with his ethereal BFF.

'It does feel like a breakup. I do love the guy — and I'm going to miss him,' Pattinson, 24, says during an interview with the Sun-Times on a cool Sunday afternoon from his hotel suite in Santa Monica, Calif. 'I prefer to think of ending this franchise like leaving school. It's the last day of high school.' (…)

'It's been amazing to play the same character through so many adventures. And it's so strange because my life has changed so much over these years, but 'Twilight' and Edward Cullen will always be a part of me. It's been my whole life. My whole 20s,' he says. 'And I wouldn't have it any other way.'

He knows that there is no way he's leaving this room without spilling some secrets about 'Breaking Dawn,' a two-part finale debuting in November.

'I haven't really seen any of the footage, so I'm not sure how any of it turned out. All I can tell you is, it felt right. It was from the heart.

'I'm as curious as any 'Twilight' fan,' he insists.
Read the rest here.  Chris Weitz tweeted earlier that he received an email from Bill Bannerman, the unit production manager on Breaking Dawn, saying that they'd wrapped production.  It's a sad, sad day in the Twi-world. 🙁
Photo: Vera Anderson via RPLife
Via: RPLife