Confessions of a Male-Twihard: Eclipse Was Snubbed!
May 5th, 2011 | By
Stefanie
| Category:
Fandom
,
Featured Articles
,
Movie News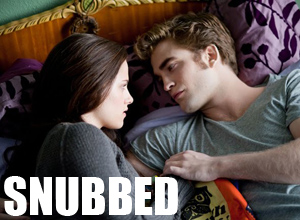 NextMovie's resident Male Twi-hard had a few things to say about the recent announcement of the MTV Movie Awards nominations.  Seems that he thinks Eclipse was snubbed in quite a few categories.  Read his hilarious take on the matter:
Most Twi-Hards today are celebrating the eight nominations received by "Eclipse" from the upcoming 2011 MTV Movie Awards, including Best Movie, Best Male (Robert Pattinson AND Taylor Lautner) and Best Female (Kristen Stewart). Eight nods leads every other film, with "Inception" getting seven and "Harry Potter and the Deathly Hallows – Part 1" ending up with six (Get a I get a "HAHA!"?).

While it's good to be at the top, basking in our superiority over more lightweight fare like "Inception," "The Social Network" (only five nominations, ha) and "Black Swan" (only four nominations, ha), I cannot stop glowering over the categories in which "The Twilight Saga" was overlooked.
"Best Line from a Movie" is one of six categories where he says Eclipse was snubbed. Have to say I agree with him on this!
Then there's Best Line From a Movie. Perhaps because the first two "Twilight" films gave us so many great lines, the members of the MTV Movies Awards Academy have just come to expect it. What about Edward's line: "Bella, would you please stop trying to take your clothes off?" Not only is that hilarious, it more or less sums up the entire "Twilight Saga" in one sentence. Yet here is where the MTV Academy chose to honor "Grown Ups" for the line "I want to get chocolate wasted." Clearly, they were chocolate wasted.
The rest is at NextMovie. What do you think? Was Eclipse left out in too many categories?