Peter Facinelli & Elizabeth Reaser on Filming the Wedding Scene
Jun 7th, 2011 | By
Stefanie
| Category:
Featured Articles
,
Movie News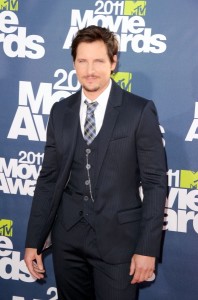 Access Hollywood spoke with Peter and Elizabeth at the MTV Movie Awards and here's what Peter had to say about the wedding scene:
Scenes from the wedding of Edward and Bella in the upcoming "The Twilight Saga: Breaking Dawn Part 1" sent Twi-hards into a frenzy last night when the stars debuted the movie's new teaser trailer at the 2011 MTV Movie Awards. But, two of "Breaking Dawn's" actors revealed toAccess Hollywood's Shaun Robinson that it took a little movie magic to make the onscreen couple's day just right.

"I wish that I could say it was this magical beautiful day, but we had a lot of rain and it was kind of muddy and there [were] tarps all over," Peter Facinelli, who plays Robert Pattinson's on screen father, Dr. Carlisle Cullen, said.

"Literally, there was a couple of extras where water just poured down and dumped on top of them," Peter told Shaun. "So, it was kind of a nightmare shooting it, but [the set] was so beautifully dressed and I know that you'll never see any of that behind the scenes stuff and it will look beautiful."
Head over to Access Hollywood to see what Elizabeth said about the "dream wedding".
Photo: Getty Images via Access Hollywood