"Gettin' Down in Breaking Dawn: Scenes & Songs Contest" Day 1!
Jun 27th, 2011 | By
Stefanie
| Category:
Contests
,
Fandom
,
Featured Articles
,
Music
,
Videos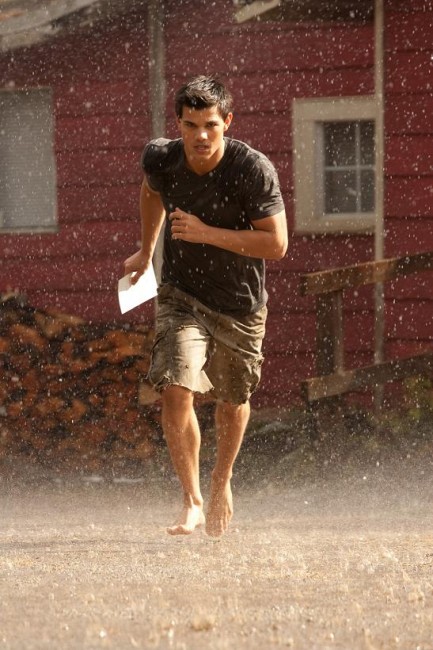 Everybody has songs or artists they'd love to see on the Breaking Dawn Part 1 soundtrack, and we're gonna give you the chance to share who YOU think should be on the soundtrack. Every Monday, Wednesday, and Friday for the next two weeks, we will post a scene from Breaking Dawn that we're looking forward to seeing and then give our choices for what song we think would fit that scene! And we want you to tell us your picks for those scenes as well! Oh, did I mention we're also doing a giveaway? Yep! In order to be entered, comment with your song and/or artist choice in the comment section on each post. The giveaway is international and one random commenter per day will win a Twilight t-shirt! There will be 6 winners total!
Today's Scene: Jacob running away after receiving his invitation to Bella and Edward's wedding.
Here are our song picks for this scene:

Stefanie- I think this song has the anger and frustration that Jacob is feeling over Bella getting even closer to that eternal commitment with Edward. That boy is angry!
Mumford & Sons "White Blank Page"
And this one because I think Jake might need some therapy after all is said and done!
Relient K "Therapy"
Kallie ~ So, I have two approaches… The first is a bit silly, but fits the scene!  It's Love Hurts by Nazareth (1976)!  LOL!
My, honest to goodness picks are Kids by Sleigh Bells…
or Away From You by Oberhofer…
Krystal:  I have two choices for this scene: Colder by Travis and White Water, White Bloom by Sea Wolf.  Actually, I had a hard time narrowing this one down, but the vibe feels right.  Maybe I should have went with more anger…