A Run Down of the Twi-Talents!
Jun 28th, 2011 | By
Stefanie
| Category:
Featured Articles
,
Movie News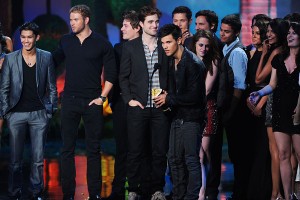 From the main trio to the new Breaking Dawn cast members, the Twilight Examiner covers the many talents of the Twilight cast in a new article. Here's an excerpt:
It is very well-known that the Twilight cast is a multi-talented  bunch, particularly when it comes to music. Several of the Saga's  actors are notoriously musically-inclined, and in fact a couple of them are  actively involved in performing on a regular basis. There are other skills  floating around the cast, too.

So, to keep things streamlined (especially since every character in the Saga has been cast by now), here's a run-through of the known  castmembers who have major talents outside the thespian realm.

Robert Pattinson ("Edward Cullen")

Almost no one would deny the fact that Robert Pattinson has a voice . . .  especially after that lovely "Songs from a Room" performance, which was fully revealed last month.

Pattinson's singing voice was featured twice on the soundtrack for Twilight (for songs he and his long-time pals wrote: "Never Think" and "Let Me Sign"). He was also featured on the soundtrack of his  pre-Twilight indie How To Be (although the  music there was intentionally so-so) a few times.

For a while there, it was heavily speculated whether Pattinson would ever  venture into compiling his own music album, and many fans direly hope he would.  Time shall tell.
Read the rest here.