"Gettin' Down in Breaking Dawn: Scenes & Songs Contest" Day 2!
Jun 29th, 2011 | By
Stefanie
| Category:
Contests
,
Fandom
,
Featured Articles
,
Music
,
Videos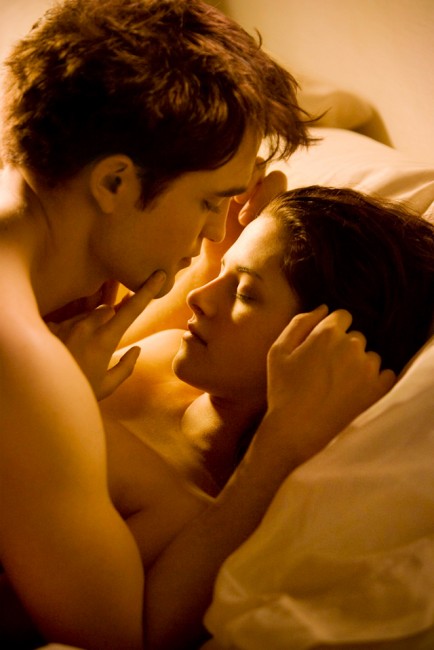 Everybody has songs or artists they'd love to see on the Breaking Dawn Part 1 soundtrack, and we're gonna give you the chance to share who YOU think should be on the soundtrack. Every Monday, Wednesday, and Friday for the next two weeks, we will post a scene from Breaking Dawn that we're looking forward to seeing and then give our choices for what song we think would fit that scene! And we want you to tell us your picks for those scenes as well! Oh, did I mention we're also doing a giveaway? Yep! In order to be entered, comment with your song and/or artist choice in the comment section on each post. The giveaway is international and one random commenter per day will win a Twilight t-shirt! There will be 6 winners total! Check out the picks from day one!
Today's Scene: the Honeymoon. Bow chicka wow wow (or as Kallie would say "brown chicken brown cow")! We couldn't narrow it down to just one scene from the honeymoon, so any scene goes!
Stefanie- This one really encompasses the whole wedding/love/forever theme. Ahem.
This next one is not silly, and I think it'd be great for a "the day after" scene. If ya know what I mean. Or even the moments leading up to the scene in the water when Bella is kind of coming to terms with what she's about to do. (The video I picked is a fan-made stop-motion video. So sweet.)
Brooke Fraser "Sailboats"
I had to pick at least one Coldplay song since there was that rumor last year that they'd be on the Eclipse soundtrack. Fingers crossed they're on Breaking Dawn! This song is like being wrapped in a warm blanket with a mug of hot chocolate in hand on a cold day, and that totally exemplifies Bella and Edward's wedding/honeymoon. They're so freakin' happy! (Totally coincidental that it's another stop-motion video!)

Kallie ~ I am going to stay pretty serious on this choice… I love Heartbeats by Jose Gonzalez and I Still Care for You by Ray LaMontagne.

Kallie ~ Alright, I can't help it… here are my 'obvious' choices for the honeymoon scene… Let's Get it On by Al Greene and How You Like Me Now by The Heavy!


Krystal:  I'm going with The Sea and the Rhythm by Iron & Wine for a serious, honeymoon night type of deal, and The Honeymoon Song covered by The Beatles for a fun, afternoon in Rio type of thing.