"Gettin' Down in Breaking Dawn: Scenes & Songs Contest" Day 3!
Jul 1st, 2011 | By
Stefanie
| Category:
Contests
,
Fandom
,
Featured Articles
,
Music
,
Videos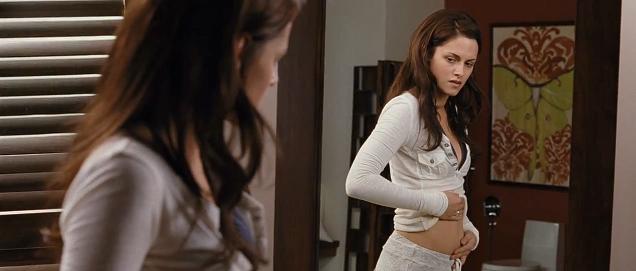 Everybody has songs or artists they'd love to see on the Breaking Dawn Part 1 soundtrack, and we're gonna give you the chance to share who YOU think should be on the soundtrack. Every Monday, Wednesday, and Friday for the next two weeks, we will post a scene from Breaking Dawn that we're looking forward to seeing and then give our choices for what song we think would fit that scene! And we want you to tell us your picks for those scenes as well! Oh, did I mention we're also doing a giveaway? Yep! In order to be entered, comment with your song and/or artist choice in the comment section on each post. The giveaway is international and one random commenter per day will win a Twilight t-shirt! There will be 6 winners total! Check out the picks for days one and two!
Today's Scene: Bella finding out she's pregnant with the "little nudger".
Stefanie- I have two different approaches to this one. The first is the scary aspect of Bella finding out she's having a baby, coupled with Edward's major freak-out.
Jónsi "Tornado"

The second is when Bella actually starts to get excited about her "little nudger".
Jon Foreman "In My Arms"
Kallie ~ Wow!  To find out your preggers… and on the honeymoon!?!?  Is there a song for that?  Here is my attempt and fitting one in, try Bodysnatcher by Radiohead or Creator by Santigold.  Both songs sound the way I would feel in Bella's place at that moment in the image above!


Krystal: This is one of the biggest WTF? moments of the entire book.  I mean, something that we never thought possible actually happened!  So for this moment I have to go with a couple of different picks.
Lissie–"Everywhere I Go"

Feist–"How My Heart Behaves"