Two New Bill Condon Interviews from Comic-Con!
Jul 23rd, 2011 | By
Stefanie
| Category:
Featured Articles
,
Movie News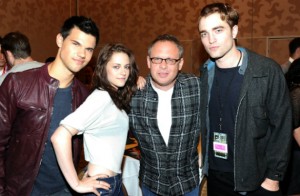 First off, we have an excerpt of Movieline's interview with Bill. This is a must-read interview. He talks about why they chose the scenes they did to show during Thursday's panel, why we won't be seeing Bella's wedding dress before November 18, THE leak and much more!
Movieline caught up with The Twilight Saga: Breaking Dawn director Bill Condon in San Diego, where he made his first Comic-Con appearance, joining stars including Kristen Stewart, Robert Pattinson, and Taylor Lautner in debuting two revealing clips from the November release. But what parts of The Twilight Saga: Breaking Dawn (The wedding! The honeymoon! Imprinting!) will Condon fight to keep secret until the film lands in theaters?

Read on to find out as Movieline discusses all things Breaking Dawn with Condon — Jacob Black's infamous imprinting scene, his Kristen Stewart crush, plans to visually represent the book's big showdown scene, potential Twilight spin-offs, the wedding dress, the film's rating, and whether or not fans need to see "full-on sex" in Breaking Dawn Pt. 1.

I've seen every Twilight panel at Comic-Con over the years, and Kristen and Rob and Taylor really seemed more comfortable this time around.
Oh, good! Well, they're getting older, right?

What were your feelings coming to Comic-Con this year? Every Twilight director has made an appeal to fans when they come aboard the franchise, whether through open letters or otherwise, and Comic-Con is a huge opportunity to actually engage with the fans to reassure them.
Exactly. That's what's been the best part of it, I have to say. Part of it is like a junket day, but the other part is showing footage to all the fans in one place. And that's like having the best test screening you've ever imagined, really getting to expose it while we're still working on it! Getting to expose it to a crowd like that was really fun.

What current work are you doing on Breaking Dawn?
Finishing up the cut now. I'd say another two, three weeks. And we start scoring and mixing in September.
And second, here's an excerpt from Laura's (from the Twilight Lexicon) interview from Movies.com where Bill talks about his anticipation of the fans' reactions to the clips shown. This is another must-read interview so head over to Movies.com to read the rest (therrrrre's honeymoooon talk :))!
Movies.com: Today is your first time at Comic Con , and your first exposure to the Twilight fandom at large. What was going through your head on that dais?

Bill Condon: I was praying that nobody booed at the clip, that they would be accepting of it, because that's like crazy.  I've been in the editing room, and it's so cocooned. We haven't had any test screening. So to show scenes, six to seven minutes of the movie, my heart was beating definitely. But it felt good. I thought it went well.
I knew Comic-Con was going to be a gold mine of info from all the Bill Condon interviews we'd get! I can't wait for more interviews to come in!