LA Times Puts It to a Vote: Was 'Eclipse' Robbed at the Teen Choice Awards?
Aug 8th, 2011 | By
Stefanie
| Category:
Fandom
,
Featured Articles
,
Movie News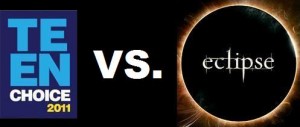 The Los Angeles Times wants to know if you think Eclipse was robbed at last night's Teen Choice Awards. You can let them know what you think by heading over to their website and voting in a poll they've got up! Go here to vote!
They raised some interesting questions about this year's show and they got me thinking. I remember that last year was when I first found out the TCAs were significantly different from other awards shows…unless I'm just out of the loop in regard to the others. What's interesting is that if you read the fine print for this award show you see that the producers have the final say on who actually walks away with the surfboard. Here's what the fine print states–this comes straight from the Teen Choice Awards website, y'all:
Winners for the Teen Choice Awards are determined using the votes cast on teenchoiceawards.com.  Votes are tabulated electronically and winners are determined based on the nominees in each category with the highest number of eligible votes.   Teenasaurus Rox reserves the right to choose the winner from the top four vote getters.
During last night's show, there was a big Harry Potter send-off and the conspiracy theorist in me is willing to bet that to pull of this huge last hoorah the producers chose the Harry Potter actors to win in all the categories they were nominated in. Wouldn't have been much of a send-off if HP had only won one or two awards, would it? However, why have teens vote and tell them that their votes decide the winners if, in reality, they really don't?
What do you think? Was the show rigged? Does it even matter if it was or wasn't? Let us know in the comments!