September: Hourglass by Myra McEntire
Aug 31st, 2011 | By
Kallieross
| Category:
Book News
,
Book of the Month
,
Fandom
,
Featured Articles
,
Site News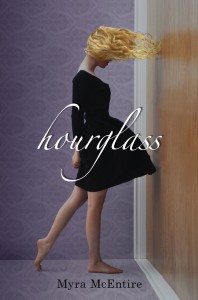 This September our Book of the Month is HOURGLASS by Myra McEntire.  We are so excited to introduce you to this new time slip romance, and it's fun-loving author!
Hourglass is not just a pretty cover… The story is refreshing and beautiful as well.  I fell in love with the main characters, Emerson and Michael, from the beginning of the story.  Em's quirkiness and sarcastic nature, and Michael's hero complex and mysterious life kept me reading at a furiously fast pace.  I had to stop myself from reading the entire book in one sitting, because I wanted it to last.  To be honest, the last time I took the time to slow myself down while reading was when I didn't want The Hunger Games, by Suzanne Collins, to end.

We really hope you'll check out Hourglass, and if you want more info about the book check out my review of the book at BookshelfBanter.com!  We also interviewed the author, Myra McEntire, and you can listen by clicking PLAY below!

Book Description:
One hour to rewrite the past . . .
For seventeen-year-old Emerson Cole, life is about seeing what isn't there; swooning Southern Belles; soldiers long forgotten; a haunting jazz trio that vanishes in an instant. Plagued by phantoms since her parents' death, she just wants the apparitions to stop so she can be normal. She's tried everything, but the visions keep coming back.
So when her well-meaning brother brings in a consultant from a secretive organization called the Hourglass, Emerson's willing to try one last cure. But meeting Michael Weaver may not only change her future, it may change her past.
Who is this dark, mysterious, sympathetic guy, barely older than Emerson herself, who seems to believe every crazy word she says? Why does an electric charge seem to run through the room whenever he's around? And why is he so insistent that he needs her help to prevent a death that never should have happened?
Full of atmosphere, mystery, and romance, Hourglass merges the very best of the paranormal and science-fiction genres in a seductive, remarkable young adult debut.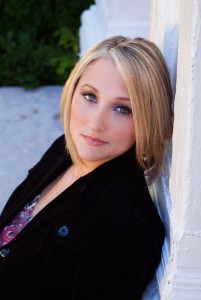 Myra McEntire knows the words to every R and B hit of the last decade, but since she lives in the country music capital of America where her lyrical talents go sadly unappreciated, she chose to channel her mad word skills into creating sultry Southern timeslip novels.
But if you catch her at a signing, she can probably be convinced to rap with you anyway.