Hourglass Discussion… Book of the Month Podcast
Sep 29th, 2011 | By
Kallieross
| Category:
Book News
,
Book of the Month
,
Fandom
,
Featured Articles
,
Podcasts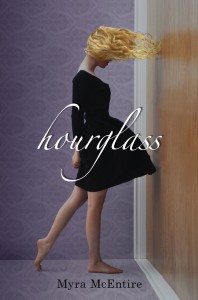 Last week Krystal, Stefanie, Kelly and myself had a fun conversation about Hourglass (TST's Book of the Month) by Myra McEntire.  We have all fallen for this timeless novel, and you can listen to learn what we love about it!
Book Review from BookshelfBanter.com:
Hourglass is not just a pretty cover… The story is refreshing and beautiful as well.  I fell in love with the main characters, Emerson and Michael, from the beginning of the story.  Em's quirkiness and sarcastic nature, and Michael's hero complex and mysterious life kept me reading at a furiously fast pace.  I had to stop myself from reading the entire book in one sitting, because I wanted it to last.  To be honest, the last time I took the time to slow myself down while reading was when I didn't want The Hunger Games, by Suzanne Collins, to end.
One thing Myra McEntire achieves with Hourglass is an outstanding supporting cast of characters.  In some books I find myself perusing through the sub-plots to get back to the main storyline.  The entwined sub-plots in Hourglass kept me engaged and wanting more from characters like Kaleb, Lily and Dru!
I want to turn back time and relive reading Hourglass over and over!  The story is new and fresh to the Young Adult market and I am so excited to recommend a book that's original and fun to all those vampire/werewolf-loving readers!
5 Books for Hourglass by Myra McEntire
Book Description:
One hour to rewrite the past . . .
For seventeen-year-old Emerson Cole, life is about seeing what isn't there; swooning Southern Belles; soldiers long forgotten; a haunting jazz trio that vanishes in an instant. Plagued by phantoms since her parents' death, she just wants the apparitions to stop so she can be normal. She's tried everything, but the visions keep coming back.
So when her well-meaning brother brings in a consultant from a secretive organization called the Hourglass, Emerson's willing to try one last cure. But meeting Michael Weaver may not only change her future, it may change her past.
Who is this dark, mysterious, sympathetic guy, barely older than Emerson herself, who seems to believe every crazy word she says? Why does an electric charge seem to run through the room whenever he's around? And why is he so insistent that he needs her help to prevent a death that never should have happened?
Full of atmosphere, mystery, and romance, Hourglass merges the very best of the paranormal and science-fiction genres in a seductive, remarkable young adult debut.