Bill Condon on Editing "Breaking Dawn" to Make It PG-13
Oct 31st, 2011 | By
Stefanie
| Category:
Featured Articles
,
Movie News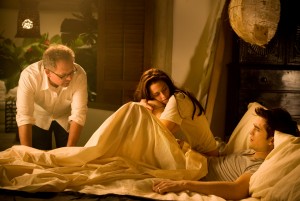 Kristen Stewart broke the news that Breaking Dawn got an R-rating its first go 'round, and then a report came out explaining the particulars as to why it originally got that rating–at least in the UK anyway. MTV caught up with Bill Condon recently and talked with him about the ratings issue:
Though director Bill Condon couldn't confirm the R rating when MTV News recently spoke with him on the phone, he did reveal the approach necessary to earn a more teen-friendly PG-13 for the November 18 release.

'It's almost clinical the kind of strict guidelines [the MPAA] have about anything that appears to be — how do I put it delicately?

That appears to be, let's call it thrusting. In fact, you know, it was so much more about romance than it was about hot-and-heavy action, so it was a very kind of simple adjustment to make.'
Bill goes on to talk about scouting locations for the perfect Isle Esme and the challenges that arose while filming there.