November Book of the Month is…And a Giveaway Contest!
Oct 31st, 2011 | By
Kallieross
| Category:
Book of the Month
,
Contests
,
Featured Articles
,
Site News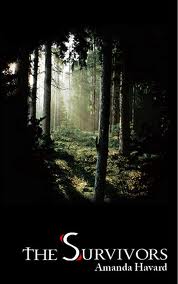 Here it is! Our Book of the Month for November on BookshelfBanter.com and TwilightTheoriesSeries.com is…The Survivors by Amanda Havard! The Survivors is Amanda's debut novel and the first in The Survivor Series published by Chafie Press. During the entire month of November, we will be sponsoring events surrounding this fantastic book. There will be 3-yes, THREE!!!-giveaways of signed copies from Amanda Havard, and the last giveaway will include a Survivors swag bag with free music downloads as well! Amanda will be giving out lots of information throughout the month as we do an interview with her as well as a Twitter Chat Party with her towards the end of the month. Amanda Havard isn't your normal author, either. She's a singer/songwriter who uses music to set the stage for her books. You can see what I mean by checking out her YouTube page. You can also follow Amanda on Twitter and Facebook, as well as SEVERAL of her characters in The Survivors Series. Here is the synopsis from Amazon for the book:
"In 1692, when witch trials gripped the community of Salem, Massachusetts, twenty-six children were accused as witches, exiled, and left for dead. Fourteen of them survived. The Survivors is the first installment of the tantalizing tales of the fourteen ill-fated Survivors and their descendants, who have been content in hiding for over three centuries. Isolated on a Montana mountainside, only Sadie, the rogue daughter, dares to abandon the family's sacred hiding place. But no matter how far Sadie runs, something always pulls her back. On a muggy summer night in Tennessee, she witnesses a shocking scene that will change her life forever. It is the first in a sequence of events that will drag her from the human world she's sought to belong to for over a century and send her back to her Puritanical family and into an uncertain future filled with cunning witches, mysterious nosferatu shape-shifters, dangerous eretica and vieczy vampires, millennia-old mythology, and the search for her own mortality. After all… HOW DO YOU KILL A SURVIVOR?"
We hope you will grab a copy of Survivors and let us know what you think!  You can read Kelly's review of Survivors here. To get us started off right this month, here is our FIRST of THREE contest giveaways!
Survivor GIVEAWAY #1:
We will be giving away TWO signed copies of Amanda Havard's Survivors. All you have to do is comment below and tell us 3 things you would do if you had unlimited amounts of money! Yep, that's it! We'll pick our winners for this contest on Wednesday, November 9th. Be watching for all of the fun events we have this month with Amanda and for more chances to win!